Danbury Mint Collectors Plate issued in 2006

"Garden Portrait"

by Simon Mendez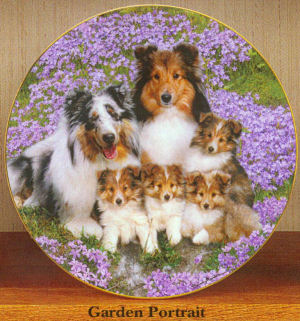 This is the Danbury Mint Collectors plate that

once again has our favorite small male Sheltie

featured as all four of the puppies.

That's right "Shiloe" made it on to a second plate!

If you look close you can see that Simon Mendez used the same photo and has the same pose for the puppy in the lower right corner that he used on the first plate in the series "Family Time". 

In that one this same pose is in the bottom center.

We have been told that the Danbury Mint and Simon Mendez do not use dogs more than once - so we were thrilled to see that "Shiloe" was used a second time.  It is obvious that others besides us think that he is a fantastic looking Shetland Sheepdog puppy - and now that he is an adult he still looks GREAT even though he is only 13"

(the minimum height allowed).

The two adults on this plate are NOT ours - we don't have a Blue Merle, White and Tan

and the Mahogany Sable is not one of ours either.

Once again we want to thank Pam Marks of Paw Prince Photography along with the Danbury Mint and of course Simon Mendez of Yorkshire, England for their GREAT work!


Below  is the collection as of November 2006

Family Time is the top left plate

                            ^

Garden Portrait is in the bottom center